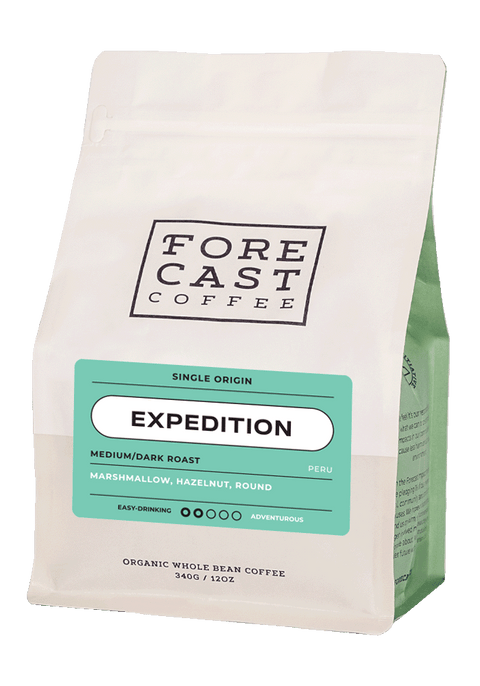 Forecast Coffee
Expedition Med/Dark
Roast: Medium/Dark

Tasting Notes: Marshmallow, Hazelnut, Round
Description:
From Peru, Expedition is a medium dark roast bringing sweet and nutty notes in a coffee that is easy to drink and forgiving to brew.


Flavour notes of marshmallow and hazelnut with a round texture makes Expedition a good choice for anyone looking for a deep flavour profile without going too dark.
See grind and brewing guide here.
SOURCING

Coffee - 35 grams | Grind - Medium | Water - 500 grams | Ratio - 1:14 | Time - 4:30
Coffee - 35 grams | Grind - Medium | Water - 500 grams | Ratio - 1:14 | Time - 4:30
Coffee - 35 grams | Grind - Medium | Water - 500 grams | Ratio - 1:14 | Time - 4:30
ORGANIC - FAIR TRADE - BIODEGRADABLE PACKAGING
Seasonal
Organic beans sourced with local partners
Sign up for a subscription and always have specialty coffee