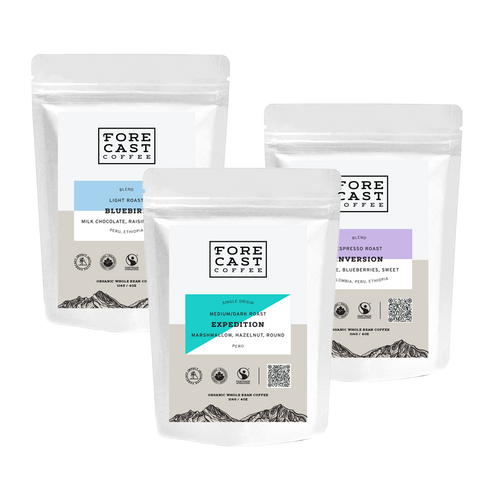 Forecast Coffee
Mystery Bag 4oz
Add this product to your cart and spend $50 to receive for FREE!
Mystery bag will be automatically added to cart when you spend $50 or more for a limited time only. A mystery bag is 1 bag of our choice from our 4oz collection. It will come as whole beans only. 

 See grind and brewing guide here.
SOURCING

Coffee - 35 grams | Grind - Medium | Water - 500 grams | Ratio - 1:14 | Time - 4:30
Coffee - 35 grams | Grind - Medium | Water - 500 grams | Ratio - 1:14 | Time - 4:30
Coffee - 35 grams | Grind - Medium | Water - 500 grams | Ratio - 1:14 | Time - 4:30
Tasting Notes: Apricot, Jasmine, Lemon Drop
Seasonal
Organic beans sourced with local partners
Sign up for a subscription and always have specialty coffee